IColor™ LF900 Overview
Your On-Demand Digital Wide Format Label Finishing Technology!
UNINET® introduces the IColor™ LF900, an exceptional INTEGRATED WIDE FORMAT LABEL finishing solution developed to manage an extensive variety of wide format label media stock featuring lamination, contour cutting, waste matrix removal, slitting and final rewind.
The UNINET® IColor™ LF900 was created to optimize the label finishing process on demand.
UNINET® IColor™ LF700 Finisher keeps you competitive!
Complete your wide format product label production digitally and on-demand
Enhance your wide format label quality appearance for lasting durability, and full protection; ideal for beverage, food, water bottle labels, and much more
Increase your profits by producing powerful, compelling and visually appealing finished labels ready for the production line
Features
Increase your profits and productivity with Impressive speeds - 1.5 meters faster than a standard finisher
Creates customized shapes and sizes to suit label needs
OPTIONAL Double Cutting HeadSystem and Carrier - Type Lamination Rewind System to increase and maximize label finishing process up to 10.2 meters per minute
Knife Slitting with easy adjustability and multiple slit web rewind
Compatible with all roll-to-roll labels up to 14" wide
User friendly control panel for easy navigation through multiple menus and functions
Combines state-of-the-art tracking technology with robust, industry standard engineering
A perfect complement to the IColor™ 900 Digital Label Press!
Machine Overview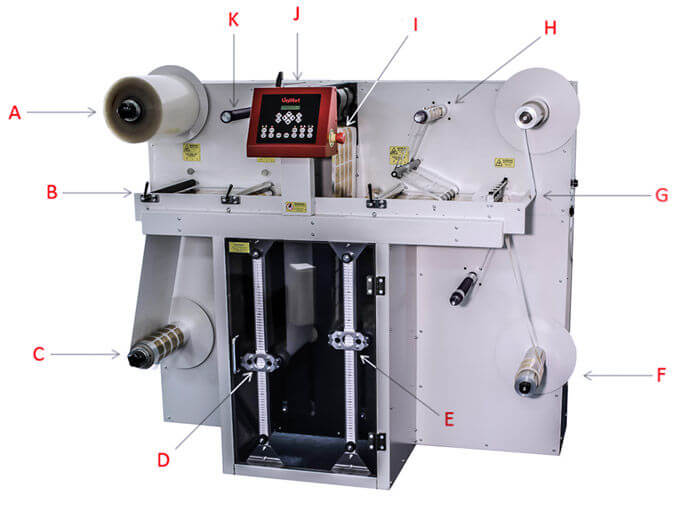 A. Lamination Unwind
C. Media Unwind
E. Adjustable Media Rewind Bar
G. Slitter Module
I. Emergency Stop
K. Waste Matrix Rewind
B. User-Friendly Lock Lever
D. Adjustable Media Feed Bar
F. Media Rewind
H. Lamination Waste Rewind
J. Control Panel
Product specifications
Media Width:

3.9" - 14" (100 - 350mm)

Input Roll Diameter:

Up to 24" (600mm)

Cut Label Size:

.79" - 31" (20-800mm) linear length

Media Jointing:

Splicing Bed

Cut Speed:

31" (800mm) axial maximum

Cutting Speed:

Up to 16.9' (5.1m) per minute (Dependent on graphic) and up to 33.6' (10.2m) with double cutting head option

Cut Force:

005-400 grams in gram steps (independently controlled in case of double cutting head option)

Cut Type:

Drag Knife and Tangential emulation (with Double cutting head option)

Cut Ability:

Both printed and unprinted media

Cut Registration:

Single Point registration system

Roll Slitting:

5 Blade slitting, and re-wind system

Cut Media Rewind:

Twin reversible re-wind drives

Paper Out:

Sensor system

Double Dancer Bars:

For paper feed with positional intelligence

Lamination:

Unsupported and Supported laminate roll

Cut Matrix:

Waste removal — Matrix rewind system

Waste Trim Mandrel:

Integrated waste trim mandrel as standard

Interface and Software:

WinPlot (Windows OS) cut software, cutter control parameter software, Plug-ins for Corel Draw and Adobe Illustrator

Dimensions:
Width:

68.5" (1740mm)

Depth:

35.8" (910mm)

Height:

59.4" (1510mm)

Weight:

617 lbs (280 kgs)

Power Supply:

Single Phase 110-240vac, 50/60 Hz